SVS introduces High Volume Low Speed (HVLS) fans by Kale Fans, the world's second largest HVLS fan maker. Find the right fan size for your large-scale needs, with diameters upto 8 m (24 ft) in AC-geared or PMSM motor technology.
About
Product specifications
Salient features of Kale HVLS Fans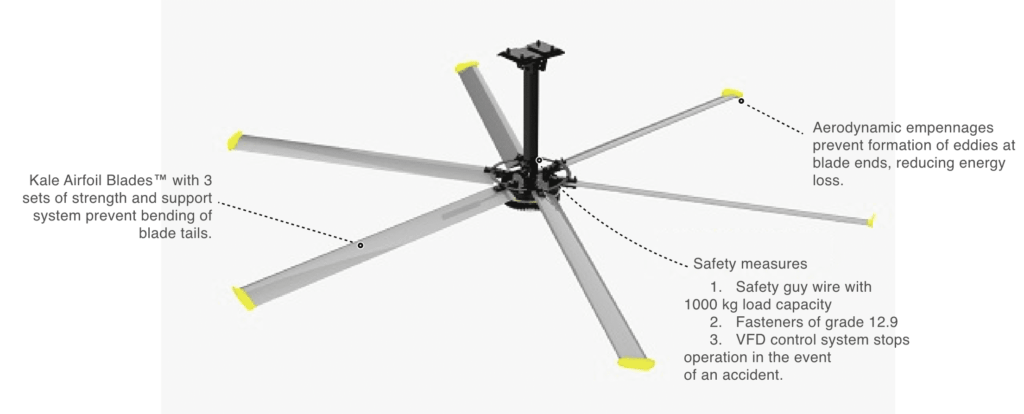 Combine with the SVS lineup for complete
solution to your ventilation needs
There is a fight for roof space between solar panels, wind ventilators and daylight systems. Strategically placed high discharge SVS wind ventilators along with Kale HVLS fans inside the shed are the need of the hour.
Model Series
Blade Diameter
Discharge in cfm

Diamond PMSM Motor

4.2m / 14ft

266624

3.6m / 12ft

231664

3m / 10ft

195290

2.4m / 8ft

160681

 

 

 

 

EURUS II

AC Geared Motor

7.3m / 24ft

459947

6.1 m / 20ft

428227

4.9m / 16ft

396506

3.6m / 12ft

364786

 

 

 

 

EURUS III

PMSM Motor

7.3m / 24ft

521626

6.1 m / 20ft

484619

5.5m / 18ft

470521

4.9m / 16ft

445849

 

 

 

 

BOREAS III PMSM Motor

7.3m / 24ft

462300

6.1 m / 20ft

430538

5.5m / 18ft

405835

4.9m / 16ft

377266

 

 

 

 

Airpole PMSM Motor

4.2m / 14ft

266624

3.6m / 12ft

231664

 

 

 

 

Airfree PMSM Motor

2.0m / 6ft

377266

 

 

 

 

Airmove PMSM Motor

2.0m / 6ft

377266
Trusted by over 6,000 customers around the world
India's largest ventilator manufacturer, installer, and exporter with more than
70% returning customers