The Essence of Pure Sunlight. Minus Electricity.
SafeLuxPLUS illuminates indoor spaces with natural light, leaving the associated heat and glare outside. Its short tube design lends a minimal aesthetic and allows free movement of tall cranes.
About
Product specifications
With its ceiling-flush installation, Safelux
minimises its own presence and illuminates the foreground.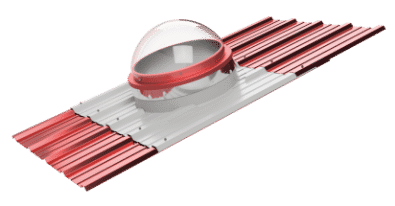 Safe, leak-proof installations
Collection System
Clear, UV resistant polycarbonate dome with flange
| | |
| --- | --- |
| Parameter | Specifications |
| Transmission | Minimum 80% |
| Refractive Index | 1.58 |
| Service Temperature | -10°C to 80°C |
| Thickness | 2mm at flange |
Specifications
Aluminium Sheet Thickness: 0.4mm – 0.5mm
The film surface should have a luminous reflectivity of 98% and a bandwidth reflectivity of over 90% for 400 to 775nm wavelength of light incident between 0 to 80 degrees.
Diffuser
Lens Diffuser made from UV stabilized polycarbonate film
| | |
| --- | --- |
| Parameter | Specifications |
| Diffuser type | Polycarbonate lens |
Roof mounting system
Leak proof installation of the system on customer roof
Specifications
The system is installed in such a way that the light guidance component of the system is dustproof. This is necessary to prevent dust from entering the tube to ensure reflectivity is maintained. It is also to ensure that the air column inside the tube will act as an insulator for heat. Daylighting system complete assembly to be installed on FRP Base of profile which will match the roofing sheet. All installation to be done by cutting hole on the roof and placing the FRP base above this hole.
Trusted by over 6,000 customers around the world
India's largest ventilator manufacturer, installer, and exporter with more than
70% returning customers