Premium natural lighting solution
An innovative system that collects sunlight and amplifies it indoors
About
Product specifications
With the Vari-pitch Elbow and Extended Tube, no roof is too high for the SunInside.
A dome shaped structure with specialized optical system captures sunlight consistently throughout the day and redirects it downward into the duct.
The 98% reflective sheet minimises light loss and colour change, even in cloudy conditions.
The 3M™ diffuser film uniformly spreads light, and its optical-grade plastic film maintains colour of the transmitted light.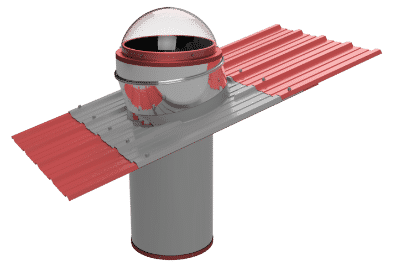 Safe, leak-proof installations
SunInside Tubular guided daylighting system has been made in
technical partnership with 3M India Ltd.The daylight guidance system
broadly consist of four different parts:
1. Collection system
Clear, UV resistant polycarbonate dome 
| | |
| --- | --- |
| Parameter | Specifications |
| Transmission | Minimum 80% |
| Refractive Index | 1.58 |
| Service Temperature | -10°C to 80°C |
| Thickness | 2mm at flange |
Specifications
Aluminium Sheet Thickness: 0.4mm – 0.5mm
The film surface should have a luminous reflectivity of 98% and a bandwidth reflectivity of over 90% for 400 to 775nm wavelength of light incident between 0 to 80 degrees.
The mirrored surface shall be protected by a plastic sheet until final installation of the system.
3. Diffuser
Lens Diffuser made from UV stabilized polycarbonate film
| | |
| --- | --- |
| Parameter | Specifications |
| Diffuser type | Lens |
4. Roof mounting system
Leak proof installation of the system on customer roof
Specifications
The system is installed in such a way that the light guidance component of the system is dustproof. This is necessary to prevent dust from entering the tube to ensure reflectivity is maintained. It is also to ensure that the air column inside the tube will act as an insulator for heat.

Daylighting system to be installed on variable-angle elbow to counter roof slope and to ensure daylight tube to remain perpendicular to ground. The complete assembly to be installed on FRP Base of profile which will match roofing sheet. All installation to be done by cutting hole on roof and placing FRP base above this hole.
SunInside Brilliant solution that saves power
Tube Diameter
Tube Length
Typical Coverage Area
500 mm
1200 mm
750 sq.ft to 1100 sq.ft
750 mm
1200 mm
1400 sq.ft to 1750 sq.ft
*Actual data may vary depending on climate conditions,cloud cover,etc.
Trusted by over 6,000 customers around the world
India's largest ventilator manufacturer, installer, and exporter with more than
70% returning customers